This guide will show you how to populate the options of a Select Menu based on the choice of another Select Menu.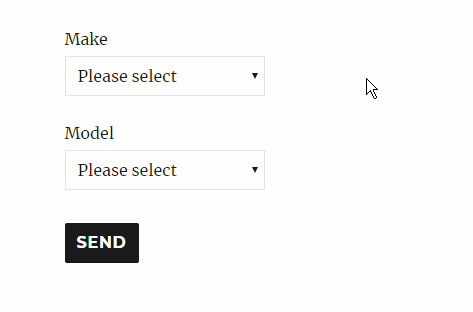 Add two Select Menus to the form, the first one will be the source and the second one the target (the choices of the target will be set dynamically).
Go to the settings for the target Select Menu, and on the Data tab turn off the option Validate submitted value – this will allow the form to be submitted with a value that is not one of the configured choices in the element settings.
Then go to Forms → Settings → Custom CSS & JS and at the Custom JavaScript field add the following code.
1


2

3

4
5


6

7

8

9
10
11
12
13
14
15
16
17
18
19
20
21
22
23


jQuery

(

function

 

(

$

)

 

{


    

var

 $select1 

=

 $

(

'.quform-field-1_3'

)

,

        $select2 

=

 $

(

'.quform-field-1_4'

)

;

 
    

var

 data 

=

 

{


        

'Ford'

:

 

[

'F-150'

,

 

'Focus'

,

 

'Kuga'

]

,

        

'Toyota'

:

 

[

'Camry'

,

 

'Corolla'

,

 

'RAV4'

]

,

        

'Volkswagen'

:

 

[

'Golf'

,

 

'Polo'

,

 

'Tiguan'

]

    

}

;


 
    $select1.

on

(

'change'

,

 

function

 

(

)

 

{


        

var

 value 

=

 $select1.

val

(

)

,


            options 

=

 

[

new

 Option

(

'Please select'

,

 

''

)

]

;


 
        

if

 

(

data

[

value

]

)

 

{


            

for

(

var

 i 

=

 

0

;

 i 

<

 data

[

value

]

.

length

;

 i

++

)

 

{


                options.

push

(

new

 Option

(

data

[

value

]

[

i

]

,

 data

[

value

]

[

i

]

)

)

;


            

}


        

}


 
        $select2.

html

(

options

)

.

prop

(

'selectedIndex'

,

 

0

)

;


    

}

)

.

change

(

)

;




}

)

;
jQuery(function ($) {
    var $select1 = $('.quform-field-1_3'),
        $select2 = $('.quform-field-1_4');

    var data = {
        'Ford': ['F-150', 'Focus', 'Kuga'],
        'Toyota': ['Camry', 'Corolla', 'RAV4'],
        'Volkswagen': ['Golf', 'Polo', 'Tiguan']
    };

    $select1.on('change', function () {
        var value = $select1.val(),
            options = [new Option('Please select', '')];

        if (data[value]) {
            for(var i = 0; i < data[value].length; i++) {
                options.push(new Option(data[value][i], data[value][i]));
            }
        }

        $select2.html(options).prop('selectedIndex', 0);
    }).change();
});
On line 2, replace 1_3 with the source Select Menu element unique ID
On line 3, replace 1_4 with the target Select Menu element unique ID
On lines 6-8, customize the data object to suit - the text on the left side of the colon is the value of the source menu that should load the options on the right side of the colon into the target menu
1


2

3

4
5


6

7

8

9

10

11

12

13

14

15

16

17

18

19

20

21
22
23
24
25
26
27
28
29
30
31
32
33
34
35


jQuery

(

function

 

(

$

)

 

{


    

var

 $select1 

=

 $

(

'.quform-field-1_3'

)

,

        $select2 

=

 $

(

'.quform-field-1_4'

)

;

 
    

var

 data 

=

 

{


        

'Toyota'

:

 

[

            

{

 text

:

 

'Camry'

,

 value

:

 

'camry'

 

}

,

            

{

 text

:

 

'Corolla'

,

 value

:

 

'corolla'

 

}

,

            

{

 text

:

 

'RAV4'

,

 value

:

 

'rav4'

 

}

        

]

,

        

'Ford'

:

 

[

            

{

 text

:

 

'F-150'

,

 value

:

 

'f-150'

 

}

,

            

{

 text

:

 

'Focus'

,

 value

:

 

'focus'

 

}

,

            

{

 text

:

 

'Kuga'

,

 value

:

 

'kuga'

 

}

        

]

,

        

'Volkswagen'

:

 

[

            

{

 text

:

 

'Golf'

,

 value

:

 

'golf'

 

}

,

            

{

 text

:

 

'Polo'

,

 value

:

 

'polo'

 

}

,

            

{

 text

:

 

'Tiguan'

,

 value

:

 

'tiguan'

 

}

        

]

    

}

;


 
    $select1.

on

(

'change'

,

 

function

 

(

)

 

{


        

var

 value 

=

 $select1.

val

(

)

,


            options 

=

 

[

new

 Option

(

'Please select'

,

 

''

)

]

;


 
        

if

 

(

data

[

value

]

)

 

{


            

for

(

var

 i 

=

 

0

;

 i 

<

 data

[

value

]

.

length

;

 i

++

)

 

{


                options.

push

(

new

 Option

(

data

[

value

]

[

i

]

.

text

,

 data

[

value

]

[

i

]

.

value

)

)

;


            

}


        

}


 
        $select2.

html

(

options

)

.

prop

(

'selectedIndex'

,

 

0

)

;


    

}

)

.

change

(

)

;




}

)

;
jQuery(function ($) {
    var $select1 = $('.quform-field-1_3'),
        $select2 = $('.quform-field-1_4');

    var data = {
        'Toyota': [
            { text: 'Camry', value: 'camry' },
            { text: 'Corolla', value: 'corolla' },
            { text: 'RAV4', value: 'rav4' }
        ],
        'Ford': [
            { text: 'F-150', value: 'f-150' },
            { text: 'Focus', value: 'focus' },
            { text: 'Kuga', value: 'kuga' }
        ],
        'Volkswagen': [
            { text: 'Golf', value: 'golf' },
            { text: 'Polo', value: 'polo' },
            { text: 'Tiguan', value: 'tiguan' }
        ]
    };

    $select1.on('change', function () {
        var value = $select1.val(),
            options = [new Option('Please select', '')];

        if (data[value]) {
            for(var i = 0; i < data[value].length; i++) {
                options.push(new Option(data[value][i].text, data[value][i].value));
            }
        }

        $select2.html(options).prop('selectedIndex', 0);
    }).change();
});
On line 2, replace 1_3 with the source Select Menu element unique ID
On line 3, replace 1_4 with the target Select Menu element unique ID
On lines 6-20, customize the data object to suit